Napa Valley is inspired by the Holiday Season. Storefronts, wineries, and city streets, sparkle with a variety of lights and showcase local creativity using red and green holiday decorations. Whether visiting the Napa Valley or whether you live locally, the holidays offer a reminder to thankfully enjoy the bounty of Napa. What better way than to treat yourself and your loved ones to a delicious meal at one of Napa's incredible restaurants.
Napa Valley Restaurants Open Christmas Eve Only
Angele Restaurant & Bar
This French Country restaurant recently celebrated its 11th anniversary. Impeccable service, outstanding cuisine, and innovative cocktails make Angele a local favorite and must-see for visitors. Visit on Christmas Eve from 11:30 a.m. to 9:00 p.m.
Bistro Don Giovanni
For 20 years dinners looking for traditional and creative Italian dishes continue to rely upon Bistro Don Giovanni. Featuring Italian wines, welcoming hospitality, and an attentive staff, dinners leave with a full stomach and a warm heart. Open regular hours on Christmas Eve from 11:30 a.m. to 10:00 p.m.
Bottega Restaurant
Chef Michael Chiarello and his Bottega Restaurant in Napa Valley both remain recipients of numerous awards and critical acclaim. A visit to Bottega is truly a special treat to celebrate the holidays. The menu showcases local ingredients used to reflect dishes from regions throughout Italy. Open for lunch and dinner on Christmas Eve.
Bouchon Bistro
Chef Thomas Keller's talented team succeeds in providing guests with a French bistro experience. Seasonal dishes are skillfully complemented by local wines. Opening at 11:00 am. and closing early at 10:15 p.m on Christmas Eve.
Cindy's Backstreet Kitchen
One of Chef Cindy Pawlcyn's three Napa Valley restaurants, Cindy's Backstreet Kitchen combines charming ambiance with a diverse menu. This is a place to relax, slow down, and savor each bite of whichever winning dish you choose. Open during their regular business hours on Christmas Eve.
Napa Valley Restaurants Open Christmas Day
The Restaurant at Auberge du Soleil
Taking the place of the usual, spectacular, award-winning menu and wine list will be a Christmas Day Dinner Menu served from 12:00 p.m. to 8;30 p.m. Make sure to make reservations now and check the website for the upcoming details regarding the special menu.
Brix Restaurant
Serving contemporary French inspired California cuisine, Brix uses its own gardens and orchards whenever possible to create an unforgettable farm-to-table experience. Open 2:00 pm to 8:00 pm on Christmas Day.
FARM at Carneros Inn
Along with their A La Carte menu, FARM will be serving a special three course Christmas Dinner menu from 4:00 p.m. to 8:00 p.m. Highlights from Chef de Cuisine Andrew Budnyj and Pastry Chef Kaley Laird's menu include Nantucket Bay Scallops, a Surf & Turf with short ribs and Maine lobster, and stressuel. Each course offers an optional, perfect, wine pairing.
Lucy Restaurant & Bar at Bardessono
Dinners will find a special Christmas Day three course menu served at Lucy Restaurant from 1:00 p.m. to 8:00 p.m. Executive Chef Victor Scargle has created many mouth-watering options to choose from including a Dungeness crab salad, Niman Ranch prime rib served with Yorkshire pudding, and chocolate, chestnut pot de creme with honeycomb and Chantilly cream.
Silverado Resort & Spa
Choose the Christmas Buffet served in the Grand Ballroom from 12:30 p.m. to 4:30 p.m. or Christmas in the Grill, a three course holiday menu served in The Grill from 3:00 p.m. to 9:00 p.m.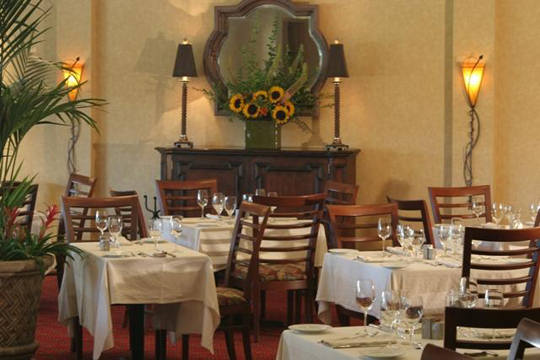 Napa Valley is the place to be to enjoy a special dinner with some of your favorite people and to embrace the Holiday Spirit.